Thursday, September 1st, 2011
Growing up together.
There's a new food store in Hollywood. Well actually it is a community organic food garden. Today Sunday February 27th, Just Food had their Garden ribbon cutting ceremony. They official open the doors to this new garden that will, when food is grown, be available to the community to help feed those who may need food.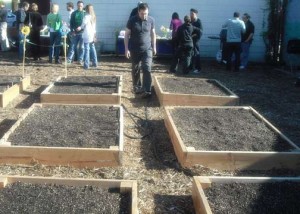 What's different about this garden, is that it is an organic gardening program offered to high school students in Hollywood. The program will be designed to to teach students how to grow organic fruits and vegetables. They will learn how to prepare delicious meals with the food grown.
It is an inspiring program that will develop young leaders and offers an opportunity for students to start a garden in their own community. Classes will start on Monday, February 28th.
Today, Councilman Tom Labonge of CD4 was presenting an award to Nathan French and his organization for their outstanding work in making the garden a realization, as well as to help cut the ribbon.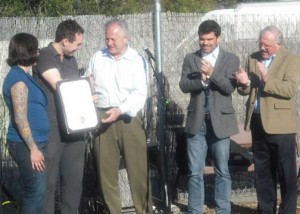 There are nine plots that have been seeded and you could see some plants showing their heads, and more are planned in months to come and that is a great thing.
If you know of a student or you are a student that might be interested in learning oganic farming techeniques, testing and evaluating soil or a lot of other wonderful things associated with the organic gardening program.
Then you need to contact this great organization about this wonderful program.
Meet and greet and you can all grow together.
For more information visit the garden at: 1711 N. Van Ness Avenue Los Angeles, CA 90028 or call Mr. French at (323) 636-1535 or Ms. Galvan at (310) 425-6651